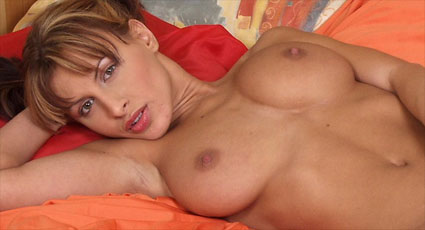 Okay guys, gather around.  Today's lesson is how to spot real natural big tits.
See this sexy girl?  She is hot.  She has nice big natural tits.  How can you tell?  Simple, when she lays down like she is, her tits spread out and get all nice and round and big.  Those are natural big tits guys… don't settle for rubber imitations when you can get the real thing!
I found this gallery and I knew you guys would love this girl.  Her tits are really nice, full, natural… and she loves to show them off.   She pulls those puppies out of her tight white sun dress, and right away you will know you have entered titty heaven.  She loves to tease you with them, and it really does turn her on.  So much so that soon enough she has her legs spread and is playing with her pussy and squeezing her big natural tits and she works on her own happy orgasm.  Nice!