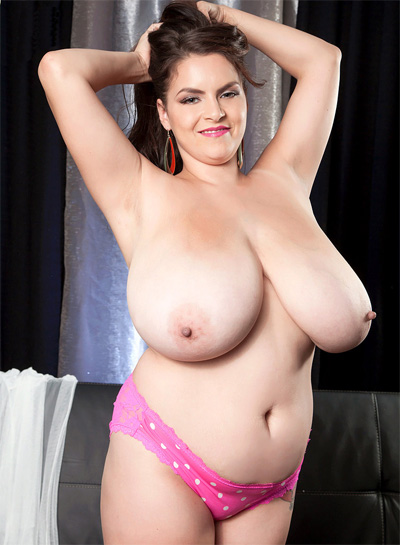 On a scale from 1 to 10, the size of Alaura Grey's massive tits is about a 26. It's seriously wild to see how big this girls tits are! Check out her story:
Alaura Grey is one of those girls who just takes your breath away. She has the sweetest-almost bashful-smile you'll ever have the pleasure of having gaze back at you, an ultra-feminine and soft, womanly figure and a set of JJ-cup jugs that make our mouths water. Alaura hails from San Jose, California, and she certainly makes us wish they all could be California girls. "I was always the bustiest girl in school," Alaura said. "I started developing at 10 and was a D-cup by middle school. I do get plenty of attention because of my boobs, even when I'm wearing sweaters! It's fun a lot of the time." Before we discovered her, Alaura's favorite job was working at Hooters. We can only imagine the mountains of tips this babe had tucked into her mountains of tit flesh at the end of each shift. Of course, Alaura heard plenty of pickup lines during her shifts. "Oh, I heard it all!" Alaura said. "My favorite is when one guy said that I had to be tired because I had been running through his mind all day." From a Hooters girl running through the minds of her patrons to an XL Girl running through the minds of boob hounds around the globe..it's safe to say everyone loves Ms.
All I can say is that if you love girls with truly huge and massive natural tits, then you absolutely need to check this girl out more!
See more of Alaura Grey at XL Girls, massive huge and big are all here!